Bedford County
       In The Revolutionary War  ~
      An Exhibit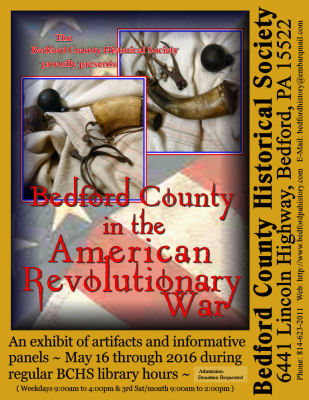 An exhibit of authentic American Revolutionary War artifacts and informative panels was shown at the Bedford County Historical Society. The exhibit opened to the public on 16 May 2016 and continued through the end of the year.
   The exhibit consisted of American Revolutionary War artifacts from the collection of Larry D. Smith.
   To take a virtual tour of the exhibit's informative panels, click on the images below to access individual pages. You can use your browser's 'Back' button to return to this Section Index page, or use the navigation buttons at the bottom of each page.
   Although visitors were more than welcome to take the virtual tour of the panels, they were encouraged to try to visit the Bedford County Historical Society to view the exhibit in person. The artifacts illustrated in the informative panels were all on exhibit, in addition to items not included on the panels.